Shaka was born in 1787 in unfortunate circumstances. He was an unwanted child and this affected his approach to life throughout his entire life.
The custom of releasing the build up of sexual tension among young unmarried people, was for a couple to partake in "uKuhlobonga".
This was normally proceeded by a request to "Hlala endleleni" (To play or dally along the road) or "ayi shaya inyoka endleleni" (To strike the snake in the road).
If a warrior had killed an enemy then he had to "Wipe the axe or wash the spear" by partaking of ukuhlobonga. Before a conflict warriors were fortified against evil or darkness referred to as "umnyama".
By slaying a person you were thus tainted with umnyama and it was required of you to wash the spear or wipe the axe by indulging in safe sexual intercourse, in order to cleanse yourself of the evil of umnyama.
The methods of this practice were recorded by Henry Francis Fynn who was the first white man to see the might of Shaka's army. He was known as "Sofili"
There was no penetration allowed, so this consisted phallic and clitoral contact only, resulting in outside ejaculation. If the partners lost control and pregnancy resulted then it was considered the man's fault and a fine of normally three cattle was levied.
During Shaka's reign the penalty was death to both partners.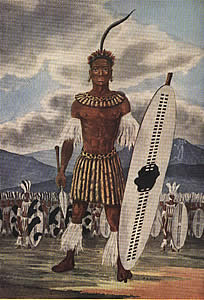 Shaka Zulu
painting by Capt. A.D.Shorey
reproduced from the book Shaka Zulu by E.A.Ritter
This practice was forbidden to members of the same clan.
Senzangakona the young chief of the Zulu tribe came upon Nandi who was a member of the Elangeni tribe, a sub clan of the Qwabe tribe, whilst she was bathing in a river pool. He was smitten by her beauty and requested to "dally along the road", to which Nandi agreed. The couple lost control. and when Nandi discovered that she was indeed pregnant, a messenger was sent to the Zulu tribe reporting the same.
An important Induna or headman of the tribe called Mudli, Shaka' uncle, denied this.
He told the messenger to return home and inform Nandi that she was stricken with "ishaka", which was thought to be an internal beetle that suppressed a woman's menstrual cycle.
When Nandi gave birth to a son she named him uShaka and word was sent to the Zulu tribe to come and fetch Nandi and her son.
Not only was Shaka illegitimate but Nandi's mother, Mfunda, was a daughter of Kondlo the Qwabe chief, and marriage between these tribes was forbidden.
Remember that the two sons of Ntombela were Qwabe and Zulu.
A chief could however do no wrong, so with this double disgrace over her she was brought in as the third wife of Senzangakona, without any marriage ceremony.